Mobile Knife, Scissor & Garden Tool Sharpening Service
What we do
Mister Sharp and Mrs Sharp offers a professional, on site knife & tool sharpening service.
Expert Knife Sharpener.
We are mobile, we will come to you!
Knife Sharpeners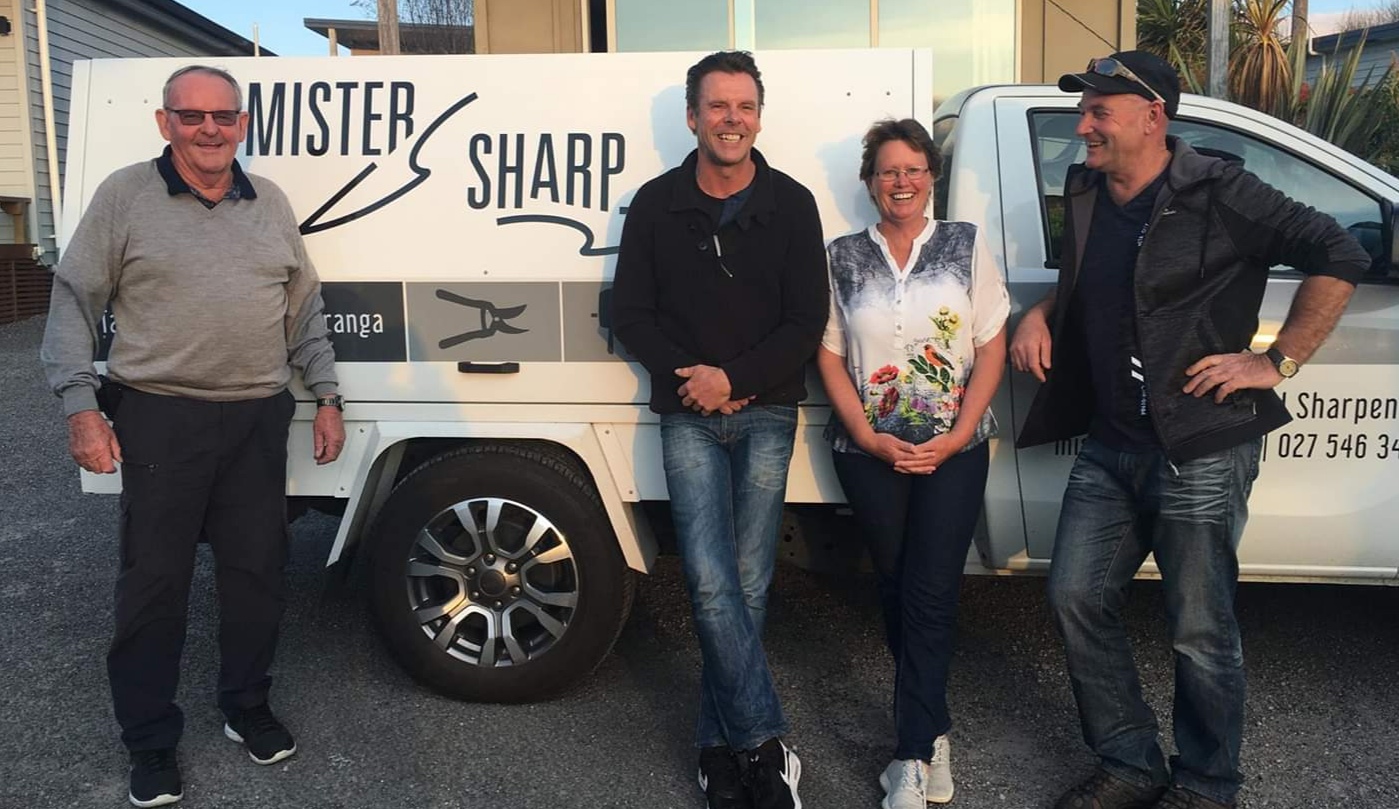 Family business
The "Mister Sharp" franchise was introduced to New Zealand in 1990.
Denis (the original Mister Sharp) Poppe is still operating "Mister Sharp" in Cambridge, Matamata and Morrinsville.
His son Lance (get the point) Poppe now operates throughout Auckland and the Waikato, from Hibiscus Coast down to Hamilton and all in between.
His niece Karen (Mrs Sharp) Gilbert now operates in Napier, Hastings and Central Hawkes Bay
His nephew Rusty (blunt as) Poppe now operates in Taupo, Rotorua & Tauranga, Bay of Plenty
The family business is growing with possibly another cousin jumping on board to operate in the Taranaki.
Over the years the systems, grinding machines and practices have been updated but the principle has remained the same – a mobile sharpening service that visits clients at a time and place that is convenient to them.
Whether it is commercial premises such as a restaurant or a private household – all jobs are important and part of the service.

Fantastic service! Lance was nice and friendly, available within the week and worked quickly. I can't explain how good it is to be able to slice a tomato with ease! Knives were very cleanly sharpened and still holding their edge.
What an amazing service. I was ready to ditch my lovely high quality Japanese knives because they could no longer cut anything, the edges had literally worn away after years of use & infrequent sharpening at home. Lance came to my house …
Lance is a bloody nice guy and did a great job with my knives and axes. Also turned up bang on time. Will use again next season, highly recommended!
Excellent service and soooo good to finally have sharp knives 🔪